Supporting Israel's most vulnerable is in our DNA.
From the moment JDC was born in 1914 — when our founding cablegram secured help for starving Jews in Ottoman-era Palestine — we've been there for all Israelis. Today, we're continuing to improve the lives of Israel's poor and elderly, at-risk youth, people with disabilities, and Haredi and Arab communities through innovative initiatives that are moving the needle on the nation's most complex social challenges.
What makes JDC's work here unique is our ability to create an impact on both the human and system levels — to transform individual lives, one by one, while also changing structures and services to scale results nationally.
And it's not just what we do — it's who we are and who we've been for nearly 109 years.
1,000,000+
Israelis benefit each week from services developed by JDC
450,000
Israelis helped by JDC's employment program since its inception
350,000
Israelis have participated in Israel Unlimited – JDC's initiative promoting inclusion and accessibility for people with disabilities
Learn more about some of our key strategic directions today.
Optimal Aging
Israel's rapidly growing older-adult population means an increased demand for social services. That's why JDC is cultivating financial resilience, physical health, and a sense of belonging among low- and middle-income older adults. Through care and rehabilitation facilities, employment centers for those working later in life, and education and programming for maintaining healthy lifestyles, we're helping to ensure Israelis can live with dignity in their golden years.
Simi's Story
Meet Simi, a participant in our Elderly Digital Literacy initiative — which gives seniors free tablets and trains them on how to use them. The device allows Simi, who is homebound, to connect with family and the outside world using video calling, Facebook, and WhatsApp, as well as exercise, listen to music, and browse the internet. She's just one example of how JDC programs for older adults help to build an "inclusive community" that facilitates optimal aging.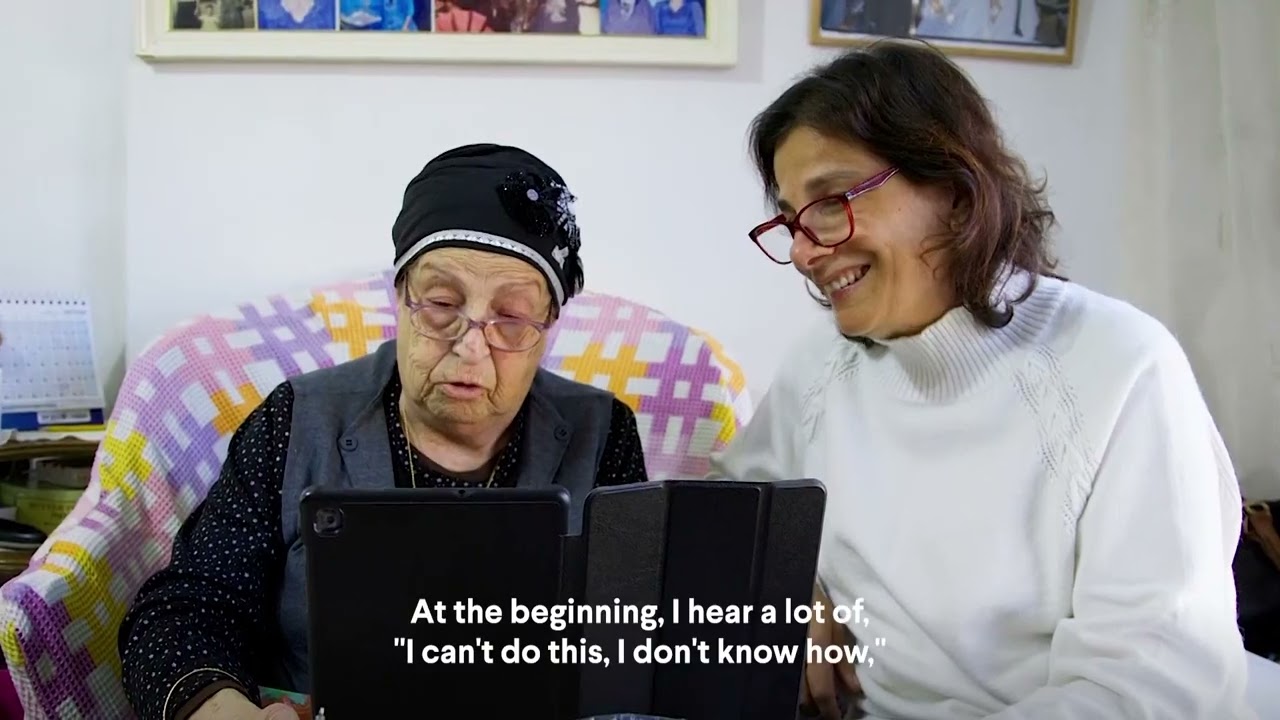 Workforce Development and Productivity
Independent Living for People with Disabilities
Public System Efficiency and Effectiveness
Impact Through the Decades: Images Across Time
1
The cablegram sent by Jacob Schiff to Ambassador Morgenthau.
2
JDC's orphanage in Jerusalem.
3
Women training to work as bus drivers. As men enlisted to join British forces to defend Palestine during World War II, women were trained to take over the civilian jobs they had left.
Join Team JDC!
Stay updated on JDC's work in Israel and around the world.
We don't spam. We share stories.